Niagara Falls Small Group Private Tour (1-9 people)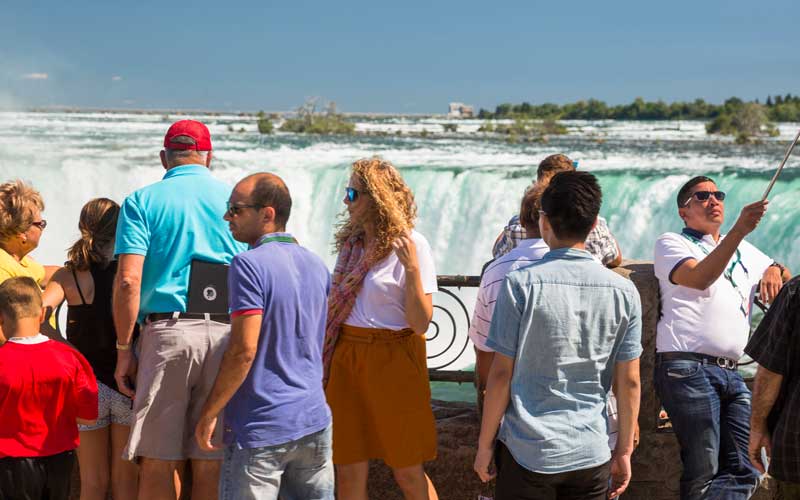 Varaktighet: 9 Timmar
Plats: Niagara Falls, Ontario



Take The Tour Your Way With Your Family & Friends in a Private Tour (Upto 9 people)


Customize your Niagara Falls experience with a Private Tour. No trip to Canada is complete without visiting the Niagara Falls! A Niagara Falls Tour Private Tour will pick you up at your Hotel (or specified pick-up location) in a luxury van (which seats upto 9 passengers) and take you to Niagara Falls.

You will have the opportunity to witness the Niagara Falls, one of the natural wonders of the world, and to explore the Niagara region. Since this is a customized tour you can visit the site you want to see, for as long as you want to see them.

This tour is specialized for the busy business traveler, couple or small family that would like the freedom of choosing their own destinations and pickup/dropoff times. Everybody should have the opportunity to visit Niagara Falls and now they can with a Niagara Falls Tour Private Tour.


Please Note: Customer pays for all entrance fees to any attractions visited. The tour schedule below is an example of where you could go. With a custom tour the attractions you visit are completely up to you!


Customizable Tour Itinerary

Tour Begins - Pickup from Hotel or Specified pick location (8:30-9:30 AM)


Your tour begins when we pick everybody up from the Greater Toronto Area (Mississauga, Brampton, Etobicoke, Oakville, etc) or from a Niagara Falls Hotel or specified pickup location in one of our meticulous maintained luxury vehicles, pick up time depends entirely on you!
Toronto, ON, Canada or Niagara Falls, ON, Canada
Arrive at Canadian side of Niagara Falls (11:00 AM)


Your custom tour arrives at the main attraction, the majestic Canadian
Niagara Falls.Niagara Falls, ON, Canada
Voyage To The Falls Cruise By Hornblower Niagara Cruise (Seasonal) (11:15 AM)

Witness the power of the Niagara Falls up-close and personal by boarding the Voyage To The Falls Cruise by Hornblower. You will travel past the American and Bridal Veil Falls and stop at the base of the Horseshoe Falls. This is an excellent photo opportunity and fun for adults and children.
Hornblower Niagara Cruises, Niagara Falls, ON, Canada

Explore Niagara Falls (12:00 PM)

Your free time begins now! You can explore the Niagara Falls and surrounding areas on your own or with your group (or skip the exploration to save time on your tour). You will be provided a free lanyard with your drivers contact information. In the event you become lost, the driver is only a phone call away.
Niagara Falls, ON, Canada

Time For Lunch & Free Time to Explore Niagara Falls (1:30 PM)


Free time to eat lunch, souvenir shop and explore Niagara Falls! This is an awesome photo opportunity!
Niagara Falls, ON, Canada
Scenic drive on Niagara Parkway (2:30 PM)
Niagara Parkway has been called "The Prettiest Sunday Afternoon Drive in the World," see for yourself! The Niagara Parkway is a spectacular drive along the Niagara River. You can admire the views and the recreational trail is used by pedestrians and is also wheelchair accessible.Niagara Parkway,
Niagara Falls, ON, Canada

Whirlpool Rapids (3:15 PM)


Experience the natural phenomenon of the Niagara River. You will witness the power of the Niagara River and watch the white waters of the rapids in the Niagara Gorge. The waters of the rapids converge, causing them to spin in counterclockwise motion.
Niagara Falls, ON, Canada

Floral Clock (3:30 PM)
Between the Botanical Gardens and Queenston Heights Park stands one of the most popular sights to view in Niagara. The Floral Clock is a 12.2-m (40-ft.) diameter working clock that is one of the largest in the world. Once you have taken all you photos with the colourful clock you can take time to go souvenir shopping or skip the shopping to save time on tour.
Queenston Heights National Historic Site, Niagara Parkway, Queenston, ON, Canada

Queenston Heights Stopover (3:45 PM)

Stopover at Queenston Heights, which borders Canada and the United States with only the Niagara River separating them. Are you a history buff? Come with us and learn about the famous Battle of Queenston Heights. Queenston Heights Park is the site of a War of 1812 battle in which Sir Isaac Brock was killed. A 50-m. (150-ft.) monument, that is perched above the Niagara Escarpment, was built in his honour. 4:00 pm: Stop at the Smallest Chapel in the World!
Nobody takes you there, except us, this is a unique destination and a perfect place for more pictures! 4:15 pm: Stopover in Niagara-on-the-lake for 60-75 MINUTES. You will appreciate the quaint shops and boutiques that line Queen Street, the main drag of Niagara-on-the-Lake, as well as the proximity of wineries, brew pubs and even a chocolate factory!
Queenston Heights Park, Niagara Parkway, Niagara-on-the-Lake, ON, Canada




Winery Tour (5:30 PM)

Complimentary wine and grape juice tasting is available. Be treated as a wine connoisseur at a world-class winery. Buy local-made wines of your choice. World famous Canadian Ice Wines are available here.
Niagara-on-the-Lake, ON, Canada