Mississauga To Niagara Falls Day Tour (Small Group. Includes Boat Cruise & Wine Tasting)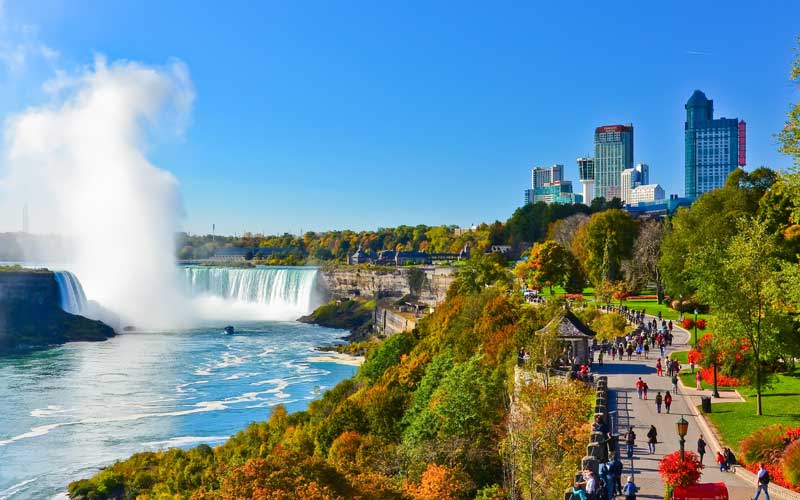 Duration: 9 Hours
Location: Niagara Falls, Ontario
Take a ToNiagara Day Tour From Mississauga To Niagara Falls And See One Of The Wonders Of The World!
Niagara Falls is a magical place with lots to see and even more to do. Take a ToNiagara Day Tour from Mississauga to Niagara Falls where you will embark on an adventurous day visiting one of the most famous landmarks in the world today.
We first drive down to Niagara Falls, which takes approximately 90 minutes. When you reach the Falls, you will board the Voyage To The Falls Cruise by Hornblower. The Voyage To The Falls Cruise is probably the most popular attraction in Niagara Falls. The boat takes you past the American and Bridal Veil Falls and right up to the base of the massive Horseshoe Falls for a thrilling show of Nature's incredible power (ponchos are provided to keep you dry).

ToNiagara has obtained VIP access for our passengers, allowing you to skip any long lineups when boarding the Voyage To The Falls Cruise.

It's time to learn about some history, we travel to the quaint town of Niagara-on-the-Lake and learn about the War of 1812 and view the amazing Victorian architecture of this 19th-century town.

The Niagara Region is also famous for its many wineries. On our ToNiagara Mississauga to Niagara Falls Day Tour, you will get a behind-the-scenes look at how grapes are grown, crushed, and pressed to produce some of the world's finest wines.

TOUR ITINERARY

TOUR BEGINS - PICK UP FROM HOTEL OR SPECIFIED PICK LOCATION (8:15 - 9:15 AM)

Free pick up from all hotels and B&Bs in Toronto, Mississauga, Brampton, Etobicoke & Oakville, including Hotels near the Toronto Pearson International Airport. If you are not staying at a hotel or B&B, you would be asked to come to one of our centralized pickup locations. 1.5 hours (90 minutes) drive from Toronto to Niagara Falls.

Mississauga, ON, Canada

ARRIVE AT THE CANADIAN SIDE OF NIAGARA FALLS (11:00 - 11:30 AM)

You will be able to see the beautiful Niagara Falls even before the bus stops!

Niagara Falls, ON, Canada

VOYAGE TO THE FALLS CRUISE (SEASONAL. By Hornblower.) (11:45 AM) (Add On)

Voyage to the Falls cruise (All tickets include Fast Track access via the Funicular Incline Railway). This attraction is seasonal. This attraction is seasonal. If the Voyage to the Falls cruise is not available (usually in the winter months), this experience will not be part of the tour. Instead, we will take you to the Journey Behind The Falls or Skylon Tower.

Voyage To The Falls Cruise, Niagara Falls, ON, Canada

TIME FOR LUNCH & FREE TIME TO EXPLORE NIAGARA FALLS (12:00 - 1:45 PM)

Free time to eat lunch, souvenir shop, and explore Niagara Falls! Lunch is not included in the price of the tour. It is an optional add-on.

Niagara Falls, ON, Canada

SCENIC DRIVE ON NIAGARA PARKWAY (2:00 PM)

Travel along the famous Niagara Parkway along the Niagara River and admire the wonderful view.

Niagara Parkway, Niagara Falls, ON, Canada

WHIRLPOOL RAPIDS (2:15 PM)

Experience the natural phenomenon of the Niagara River. You will witness the power of the Niagara River and watch the white waters of the rapids in the Niagara Gorge. The waters of the rapids converge, causing them to spin in counterclockwise motion. At this time we drop off customers to the Helipad (if they have selected the Helicopter Tour Add-On).

Niagara Falls, ON, Canada

FLORAL CLOCK (2:45 PM)

The Floral Clock is one of Niagara Falls most popular attractions. It is a large clock surrounded by thousands of colourful flowers in the summer and fall months.

Queenston Heights Park, Niagara Parkway, Niagara-on-the-Lake, ON, Canada

VISIT THE WORLD'S SMALLEST CHAPEL (3:15 PM)

We will stop at the World's Smallest Chapel, a wonderful place to take unique pictures at the miniature place of worship.

Queenston Heights Park, Niagara Parkway, Niagara-on-the-Lake, ON, Canada

NIAGARA-ON-THE-LAKE DRIVE THROUGH & WINE TASTING (3:45 PM)

We will cruise through the quaint town of Niagara-on-the-Lake to see the wonderful 19th-century Victorian architecture and then stop at a local winery to taste some of the finest wines Canada has to offer (grape juice tastings are also available).

Niagara-on-the-Lake, ON, Canada